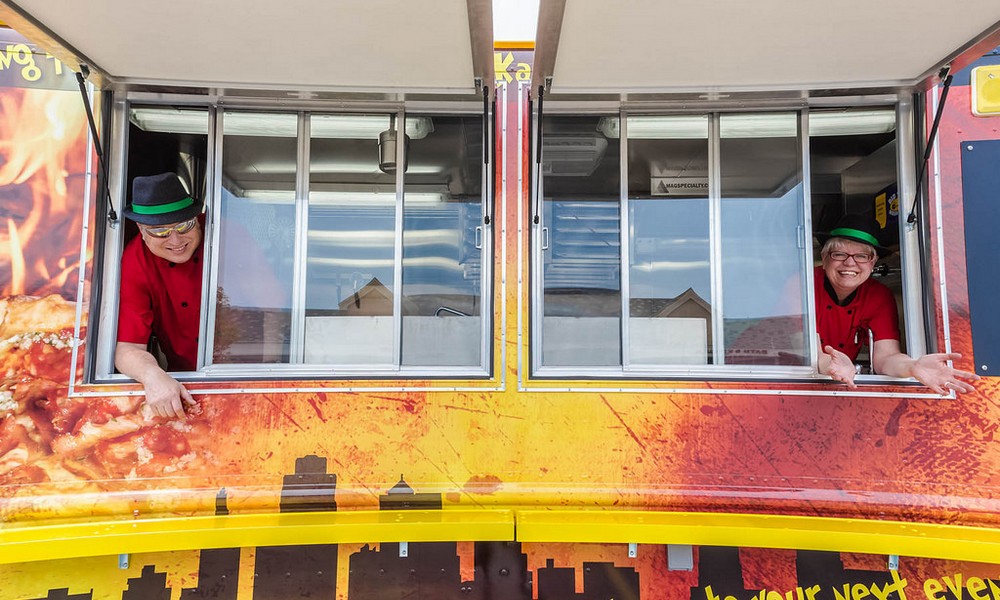 Warmer weather and sunny days make us want to get out and enjoy everything Kansas City has to offer. Combine warm breezes with tantalizingly delicious meals from some of Kansas City's best food trucks, and you have the recipe for a perfect day. Pick up your friends and grab a bite to eat at one (or two, or three) of these roadside stops. Full disclaimer: you'll probably want to show off these meals with some photos, so get your camera ready.
The owners of this food truck (affectionately known as "Pops" and "Madre") started their business because they were passionate about feeding people delicious, high-quality Italian-style food. The wood-fired pizza they produce is made with only the freshest local ingredients. Sink your teeth into any of their nine-inch creations, which range from traditional—Spinach Artichoke, Canadian Bacon and Veggie, and Italian Sausage—to the innovative, like Thai Pizza, BLT Pizza, and Carmelized Peach and Ham Pizza. You're guaranteed to find a cheesy, doughy creation to satisfy all of your pizza cravings.
Who doesn't love a good taco truck? The Taco Republic Truck brings basic street tacos to the next level by being a fully-functioning catering service and mobile restaurant. Taco Republic's mouth-watering creations include the Ortiz taco, which is made with marinated chicken, chimichurri, grilled corn, caramelized onions, queso fresco, and sauteed peppers. With a choice of delicious sides such as guacamole, five cheese queso, and tortilla chips, you'll be in street taco heaven (and quite possibly put yourself in a street taco coma).
If you like desserts, you're in for an extremely sweet treat with this delectable food truck! The yummy creations include traditional funnel cakes; deep-fried Oreos, Twinkies, and candy bars; hand-cooked popcorn and kettle corn; cotton candy; and snack packs. This truck knows how to do sweets right! The truck also sells shirts with their iconic name, if that tells you anything about the following it's accrued.
This truck may just become your one-stop shop for food—it serves everything from BBQ to Mexican to seasonal small plates. It also caters a wide variety of events (even setting up a buffet-style service outside the truck if need be). So no matter what you're in the mood for (Heirloom tomato salad? A Philly cheese steak? A gyro?) you'll find it at this all-inclusive truck.
---
If you've discovered a hidden gem, let us know! Feel free to share your favorite food truck spots on our Facebook or Twitter pages, and don't hesitate to get out there and try something new.
Image Credit: Cheeesy Pops' Pizza